Focused On the Image
Pruitt Allen is a Director of Photography, photographer and producer based in metropolitan Washington, DC and Raleigh, NC. With experience as a DP on several features as well as both feature-length and short-form documentaries, corporate videos, short films and music videos, Pruitt is well-versed in a variety of shooting styles and techniques.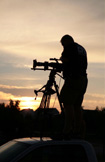 Rising through a variety of production roles, beginning as a PA and then working as a lighting grip, field audio engineer, gaffer, lighting director and camera operator, has given Pruitt an excellent understanding of all facets of production work. Previous jobs in the non-production world have given him an understanding of how to work smoothly and efficiently with clients from all walks of life.
Have a look at Pruitt's narrative reel here.
Have a look at Pruitt's photography website here.
Cinematography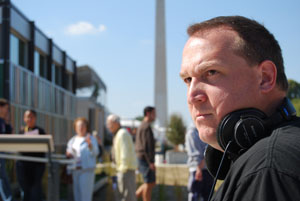 In projects as varied as feature motion pictures, political interviews and music videos, Pruitt Allen has demonstrated his dedication to the creation of stunning images. Producers describe him as being a "passionate warrior for the image" and as the "creator of stunning video".

Experience working with crews large and small, professional and student, has kept Pruitt flexible and inventive in his approach to telling story through images. He is familiar with typical cinematic support devices like jibs, rail and doorway dollies and sliders that help to bring smooth, controllable movement to movies on any budget.
Producing
Pruitt has produced award-winning videos ranging from feature and short films and documentaries to political interviews to "you are there" event coverage to TV commercials and infomercials. His client list as a producer includes Sail Away Productions, the ACLU of Virginia, Oxfam America, the Future of Freedom Foundation, the Congressional Black Caucus Foundation, Springfield Challenger Baseball, Arena Stage in Washington, DC and various non-profit organizations, musicians and government organizations.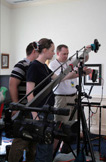 Educating
Pruitt teaches classes in Cinematography, Camera and Sound, Lighting and Grip and other production subjects at the Georgetown campus of the Center for Digital Imaging Arts - Boston University. Pruitt also teaches Storytelling Techniques for the US Army, and is invited to give presentations on lighting and camera techniques from time to time.
Equipment
Pruitt owns a Sony EX-1 CineAlta with Letus adapter and Nikon prime lenses as his primary camera (and has access to many other cameras as rental options). For stills and occasional video work he owns a Canon 5D Mark III as well as a 60D. He owns a slider, an excellent Arri light kit along with supplemental lighting of all kinds, and an excellent audio kit.
Cameras
Pruitt has shot video with the following cameras: R3D / RED Epic and One (with and without the MX sensor); Sony F3; Sony EX-1, EX-1R and EX-3; Sony PMW350; Sony F900; Panasonic HPX2000, HPX500, HPX370 and HVX200 ; Canon 5D Mark III, II, 7D and 60D; and many, many other cameras.
Planning out and executing dynamic, moving shots with varying focus points and beats requires efficient crew coordination. Pruitt's experience with all kinds of crews helps to insure that you will get the shot you need.
Have a look at Pruitt's Flickr page to see his still photography.